About Us
No Better Place to Play. Located at the corner of Wyandotte and Crawford Avenue, Breakaway Gaming Centre is the place to be for non-stop fun and excitement. Whether you're playing in our Vegas Room or just taking in a session of bingo.
Breakaway Gaming Centre is one of four Community Gaming and Entertainment Group (CGEG) gaming locations. CGEG has been providing the fun and excitement of winning for players in the Windsor\Essex area for over 20 years while raising millions for local charities. In fact, in the last 10 years alone we have raised over $50 million for charities in our own communities.
With all-new games, that everyone will enjoy. Join us in our new Vegas rooms where you can enjoy your favourite Vegas-style machines or "POD" (Play on Demand) games all with bonus rounds and progressive jackpots just waiting to be won.
If you want more of a social entertainment experience try a session of bingo on our state-of-the-art electronic bingo system or play traditionally with dabber in hand. Either way, you'll have a shot at thousands $$$$$ in prizes. And…. The fun and excitement win or lose will leave you feeling good because when you play you're also helping local charities in your community.
The charities of Breakaway Gaming Centre are extremely grateful that you have chosen to play with them. With over 88 charities represented at Breakaway Gaming Centre, you can be sure that when you PLAY you are helping these charities do GOOD for local communities right here in Essex County.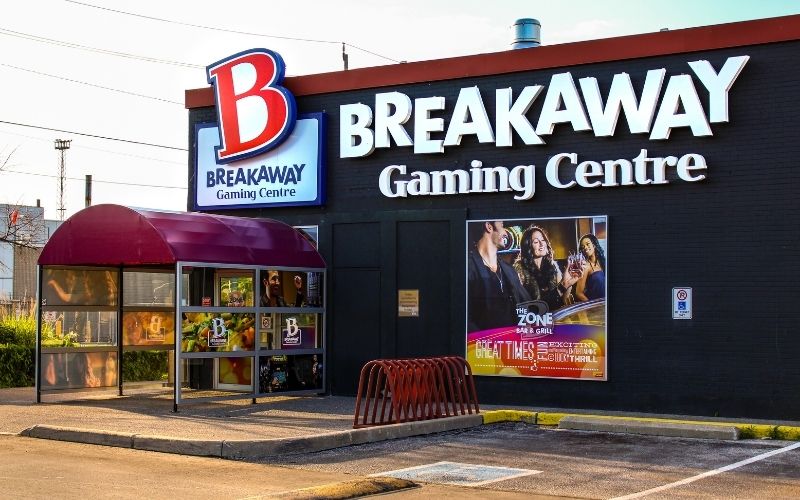 The game of Bingo is relatively simple to learn. For many of us, we learned to play bingo as a child at school or possibly at our place of worship. Conventional 75 number bingo is played with bingo cards that have a grid of five horizontal rows and five vertical columns.
The columns are lettered B I N G O from left to right across the top of the grid and each bingo card has five numbers in each row except the center N column which has a "free space" at the intersection of the third row and the third column. Bingo balls individually numbered 1-75 are mixed together and the balls are randomly selected one at a time.
As each ball is selected, the number is announced to the players, who dab or mark the corresponding number on their bingo card with a bingo ink marker/dabber.
When a player completes a predetermined arrangement of covered numbers on the bingo card, that player yells out "Bingo!" Once the bingo card is verified as being correct, he/she wins the game.